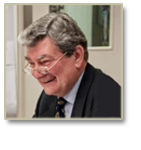 Brigadier Ian Inshaw DL
Ian Inshaw is Chairman of the P3 Group of eco companies. A former High Sheriff of Oxfordshire and army officer, Inshaw served his last five years in the service as the Garrison Commander of Bicester Garrison.
After his time at Bicester, Inshaw became the Chairman of the Oxfordshire Ambulance Trust and the North East Oxfordshire Primary Care Trust, and Chairman of the NSPCC Full Stop Appeal for Oxfordshire. Since his semi-retirement, he's become involved with Age UK, and later, the P3 Group of eco companies.
His unique knowledge of the NE Bicester area and its surrounding area make him a perfect choice to champion the development of this eco community.